Vanilla Dazzle is more into the artistic aspect of coding. She has made avatars for wiki users: Blaze Programming, Bohanyao, Nick, Anthony Jacquez and herself. She has helped some more pick out avatars from image searches online. Her most recent online learning activities are working with Paint.net and various sites for basic coding.
In addition to coding and graphics, she became interested in foreign languages before she even started kindergarten and now practices on Duolingo.
Programming Languages
Edit

Khan Academy Highlights
Edit
In January of 2016, her "Sunset with Lake" skyrocketed to the top of the hot list. She always likes to say that she is an artist who programs more than a programmer. She calls it "art by coding."
Has 3 programs with over 100 votes
Attained 659 day streak before site refused activity
Has over 10 million points, holding Tesla
Has 59 Sun badges.
Has watched over 7.4k videos
Duolingo Highlights
Edit
Found here
On levels 4 and 8 for the two languages she's reviewing
On levels 2 and 4 for the two new languages
Has over 2,900 XP
Scratch Highlights
Edit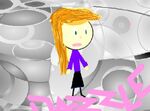 Is a scratcher
Has 3 shared projects
Has 15 followers
Wikia Highlights
Edit
She is an active presence. She is the founder of this wiki–KAOS. Across all of Wikia, she has over 7,500 edits on over 70 different wikis. She is admin on a handful of wikis. Recently, she did the wallpaper and ico for the Portuguese Duolingo site, fancrosoft, a Microsoft fan site and Power Master, a site devoted to the game series.
Alt Account Controversy
Edit
In early 2016, there was a controversy that she was using other accounts with malicious intent on Wikia. The truth is that she wanted to be able to talk to some people without being bothered by others, as some users would attack her when she entered a chat room. Currently, she is using Vanilladazzle and DazzleVanilla to chat, My Chat Logger to watch the chat room when she isn't there.
She often uses alts with two computers, such as one to see if messages come in chat and the other to switch tabs and chat when people are in the chat room. She also uses two accounts to send a link from one computer to another when one is running sluggish and filling up with links. She also uses multiple accounts because private messaging goes down a lot and as admin, she needs to private message others, such as her admin or chat mod when there's a troll in the chat room.